If you have an Instant Advance this report gives you a detailed breakdown of the status of your advance as well as details regarding the advance terms and fees. You can also review past advances on this report (Status > Paid Off).
The top section displays the net Advance offer, which is the amount made available to transfer to your bank account, and the date the offer was accepted. If this was a refinance advance the total net amount made available to transfer out will be less the amount needed to repay the previous advance.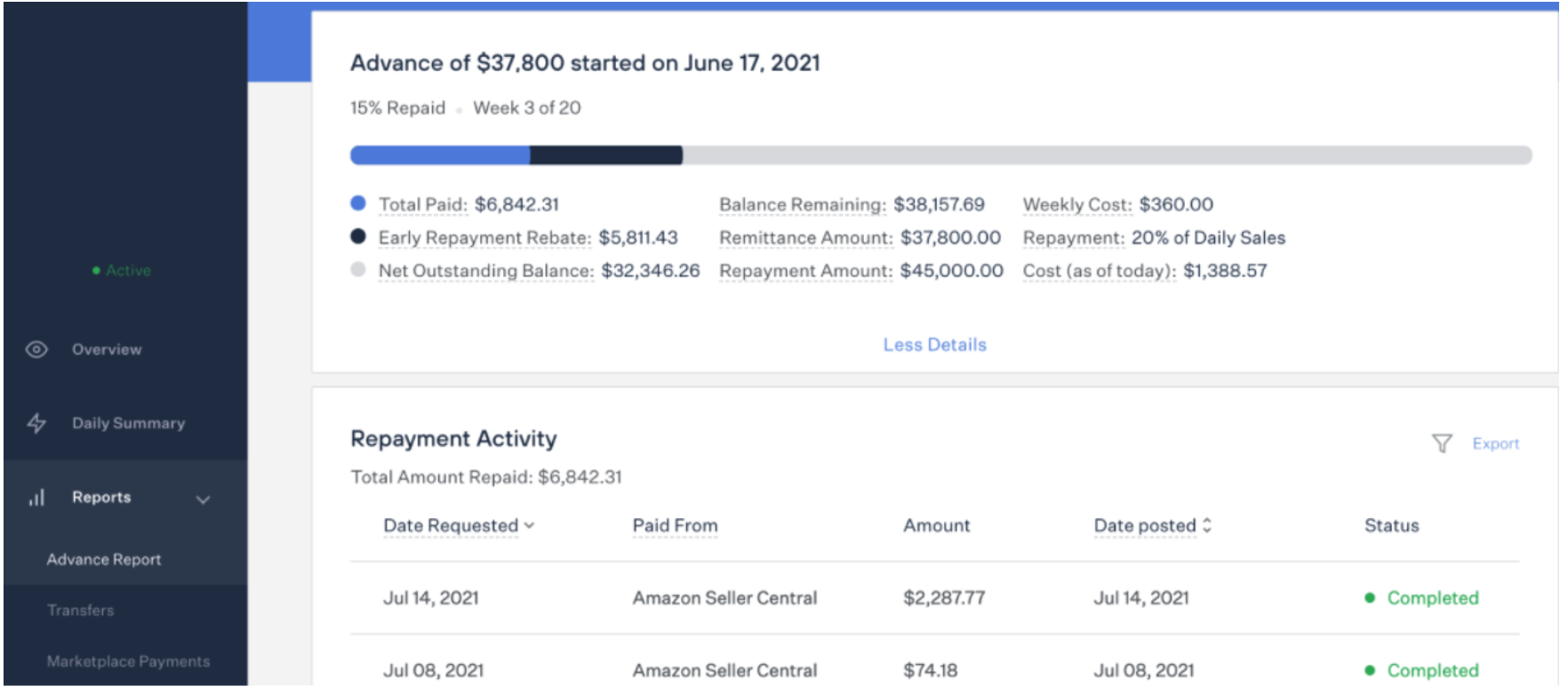 Total Paid is the amount of your Advance that has been repaid to date. This amount only includes completed and cleared payments. Payments in transit are NOT reflected in this amount.
Early Repayment Rebate is the amount you would receive if Balance Remaining is paid off in full today. This amount directly relates to the total cost of the Instant Advance. Each day the cost of the advance increases and the early repayment amount decreases. In the example below, the total cost of this advance, if repaid in the full 20 weeks, would be $7,200 (repayment amount $45,000 - remittance amount $37,800). The cost + the early repayment rebate equals the total $7,200. The earlier the advance is repaid, the less the advance costs overall.

Net Outstanding Balance is the Balance Remaining minus the Early Repayment Rebate.
Balance Remaining is the total amount remaining to be repaid.
Remittance Amount is the amount added to your Available Balance when the Advance is accepted. If this was a refinance advance the total amount added to your available balance will be less the amount needed to repay the previous advance.
Repayment Amount is total amount to be collected for Advance repayment, including fees.
Weekly Cost is the weekly cost of the Advance. This amount divided by 7 days gives you the daily Advance cost. You can see this breakdown on your Fee Report here.
Repayment is the percentage of your daily sales to be applied as repayment towards your Advance. Repayment can come directly from the marketplace or debited from your bank account.
Cost (as of today) is the total cost of your Advance as of the current date (Weekly Cost Amount times the number of Weeks Since Start).
At the bottom of the Advance Report you can see a breakdown of the Repayment Activity. Here you can see each completed payment applied to your Instant Advance and the date it was applied. Pending repayment amounts will appear here as well. Pending amounts have not been applied to the Total Paid amount on your Instant Advance.